Saturday, February 26, 2005
* Samurai Champloo 23 *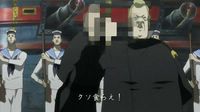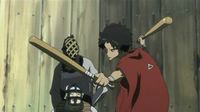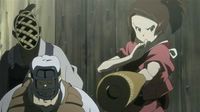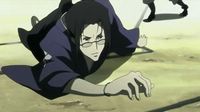 Samurai Champloo Ep 23: Baseball Blues

Hehe...is every anime doing a spo-kon* spoof? First Yugioh GX with their tennis episode, and now Samurai Champloo, of all animes! This was actually a hilarious episode, although it was a bit goofy. It had me laughing out loud, and I really enjoyed myself...

Basically you have Fuu, Jin and Mugen (and some other random Japanese characters) vs. the American team. The Americans have arrived with bombs and threats, saying that unless Japan agrees to trade with them, they will wage a war...and so instead of bloodshed, they decide to have everything come down to a baseball game. The Japan team is pretty raggedy, but they're actually doing pretty well, until the Americans start some under-handed tactics to stop them in their tracks - namely, beating the crap out of them. (Hehe...it was pretty funny when Jin tried to run the bases while the American team members were trying to jump him. He almost got to home, but they snatched home plate away from him, poor guy). Mugen pitching lethally speedy dead balls at the players had me laughing so hard....

I found it amusing that the Japanese subtitles translated the English "F*ck you!" into what would translate back as "eat sh*t!" (see screencap above). Anyway, fun episode! Much better than last week's, which you might notice that I skipped.
By the way...New ending theme! A very groovy rap song: "Fly" feat. Azuma Riki by Small Circle of Friends.

* Spo-kon: Short for "Sports konjou" (sporting spirit), this term refers to the sports manga genre, usually associated with crazy, scientifically impossible feats of sporting genius, and always involves an underdog feel-good winner at the end. ^_^
Posted by athena at |10:21 PM| |