Friday, April 08, 2005
* Glass Mask *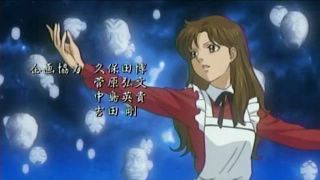 ~~~ Glass Mask ~~~
athena's entries for Glass Mask:
Ep 1: The Girl With a Thousand Masks
about:
Airs on Tuedays
Total episodes: 52 (?)
Official website
RAWS at Saiyaman

This is the story about Kitajima Maya, a very ordinary, plain looking 13 year old girl, who has hidden talents that even she does not realize. She has always loved movies and theater, but has been stuck in a relatively meager life, helping her mother make a living assisting at a noodle shop. One day, she is "discovered" by Tsukikage Chigusa, a retired actress and sole owner to the rights of the legendary play, The Crimson Goddess.

It turns out that Maya is a prodigy in acting, who has the natural gift of expression...also known as the one who possesses "a thousand masks." She has the ability to memorize entire scripts and gestures of a 3 hour play after watching it only once. Her talents can indeed take her very far...but of course, there are many enemies and obstacles she must overcome before she finds success in her genius.

Her main rival is Himekawa Ayumi, a young girl of the same age, who is the daughter of a famous actress and a movie director. The two girls will eventually be pitted against each other for the chance to gain the role of a lifetime - the Crimson Goddess.

The proud and reputed icy businessman of the entertainment industry - Hayami Masumi will also play a prominent role in Maya's life.
athena's notes:
I almost fell out of my chair in shock when I stumbled upon the torrent for Glass Mask (Garasu no Kamen) episode 1. I have loved this series for longer than I can remember, and you could say that it's truly part of my childhood. I have collected all the manga that have been published in volumes so far (41), but am very disappointed by the fact that they have yet to publish the rest. I am dying to know what happens in the end... Gah!

But I am so thrilled by the prospect of seeing this animated. I think it will be so much better than the live-action version. I do own the live action version, but I was so angered by the fact that they completely miscast the role of Masumi, that I can't bear to watch it. Masumi is supposed to be HOT, damn it! Lol...

In any case, I really loved the first episode, so I'm quite optimistic about this series.
other bloggers of Glass Mask:
(none I know of yet...please comment to be added here. ^_^;;)

Posted by athena at |10:38 PM| |