Sunday, May 22, 2005
* Yugioh GX 31 *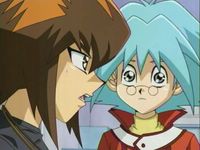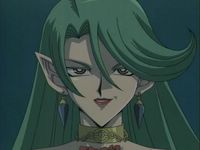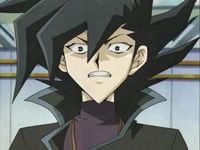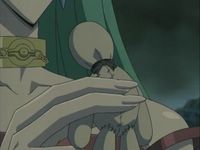 Yugioh GX Ep 31: Chronos vs. Vampire Carmulla

thoughts

Um....yeah, so sorry for the delay, but I'm finally getting around to updating my blog. Thanks for your patience! I had a slight detour also known as final exams (or four exams and a paper, to be exact), and after that, I was a little too drained to even think about writing summaries. I hope to get my backlog done this weekend.

So...episode 31. To those of you who have never liked Chronos, this may be a turning point. I've always enjoyed his silly antics and the crazy things that he always says ("Gorgonzola Cheese!"), but never really thought of him as a serious character. But he really shows his true colors in this episode, and I loved him for that. He's actually quite a deep character, who sincerely cares about his students, and goes out with a bang. His steadfast philosophy of believing in the "light" versus darkness is very touching.

summary

The episode opens at sea, with a gondola floating seemingly aimlessly. Onboard is a single casket, and it opens slowly to reveal a vampire lady. She curls her lips in a sinister smirk, as her bats fly off...

Judai wakes up with a start. He's in the infirmary bed, and he looks like he's in pain. Shou's sitting beside him, concerned. Judai says he just had a bad dream. His teacher (a woman - I forget her name), walks up as she notices that he's awakened. He asks about Asuka's brother, and she responds that he still hasn't regained consciousness, but he's hanging in there. (Fubuki is resting in a bed in the same room, with Asuka by his side).

Scene switches back to the vampire lady, who commands her bats to fly off and do their thing. "I shall not go in the same way as Darkness," she says.

Next day, rumors abound in the school about the appearance of a vampire lady. People are pretty spooked. The students entrusted with the keys have been summoned to Sameshima's office to discuss this matter, and Manjoume's really surprised by the news. "Vampire??" he says, wide-eyed. They find it hard to believe, but the principal warns that they should all be careful.

Later, all the kids are going through their decks, preparing for battle...but they don't realize that bats are spying on their moves, reporting back to the vampire lady the contents of their decks...

At the infirmary, Asuka asks about Judai, and Shou responds that he hasn't woken up since that one time last night when he regained consciousness. Asuka replies that her brother hasn't woken either, but she's glad he's alive. She wonders to herself how long these duels are going to last.

Meanwhile, the vamp herself is soaking in the tub hearing the reports back from her bats. It looks like she's chosen Ryou as her target.

Nightfall, and the group has gathered once again at Sameshima's office. "We're ready," Manjoume says proudly. Hayato runs in, panicked, saying she's appeared at the banks of the lake. They go out to investigate. A red carpet slides out over the surface of the lake towards them.

"Is this what they call the virgin road?" Manjoume asks.

"I don't think so," Daitokuji replies.

"She's calling to us," Ryou says. Everyone freaks out. "We have no choice but rise to the challenge."

"Who will go?" Manjoume asks, as the teachers cower behind the students. (Hehe...looks like the kids are braver than the adults!). In his haste to hide, Chronos trips and jumps out in front of everyone, and they mistakenly think he's volunteered himself for the job. They are all so impressed, that he can't very well back down now. So he reluctantly accepts the challenge.

(Hayato meanwhile runs over to the infirmary to inform Asuka, Shou and Judai (who's now awake) that Chronos will be dueling the next shadow game).

Chronos is obviously really scared, and Manjoume asks him, "Are you alright? You're trembling!"

The vampire appears before them, and introduces herself as Carmulla. She's disappointed that it's Chronos, not Ryou, but grudgingly decides to duel him...but not before warning that the loser will have their soul locked inside a doll.

Chronos adamantly denies the existence of shadow games. The duel begins...

* DUEL *

Carmulla: Summons Immortal Werewolf in atk (atk: 1200). Sets one m/t.

Chronos: Activates continuous magic card Antique Gear Castle. Summons Antique Gear Soldier in atk (atk: 1300). Its atk goes up by 300 to 1600 by Castle's effect (increase atk of all monsters with "Antique" in its name). Ryou also notes that Solider has an effect of its own - when attacking, the opponent can't activate any traps or magic cards. Chronos attacks Werewolf with Soldier. (Carmulla LP: 3600). Carmulla activates Werewolf's special ability: when destroyed in battle, special summon a card with the same name from deck with +500 atk.

Chronos looks surprised by this, and Manjoume says, "Hey hey, don't tell me you didn't know?" But Chronos plays it off, saying of course he knew, it's all part of his plan. He sets one m/t.

Carmulla: Summons Vampire Bats in atk (atk: 800). When this card is on her field, all her undead subtype monsters get a 200 atk boost. (So bats are at 1000, and werewolf at 1900). Attacks and destroys Solider with Werewolf. (Chronos LP: 3700). Attacks directly with Bats (Chronos LP: 2700). Chronos feels great pain, and wonders to himself if this is the effect of the shadow game.

Carmulla says in a bored tone that this is no fun at all...she'd much rather have dueled Ryou. It's no too late to change, she says.

Chronos stands up and announces that Ryou is his precious student, and that he won't let her lay a finger on him! And besides, he says with determination: as the person vested with the most responsibility for Duel Acadamia's dueling program, he can never accept the existence of the shadow games.

"But you're a mess," Manjoume nicely points out.

"No worries!" Chronos says, "I will bury the darkness with the light." He activates trap card Damage Condenser, which lets him special summon one monster from his deck in attack position with less atk points than the LP damage he just received this turn (1300). He special summons Antique Gear Solider. (atk 1300, ups to 1600 by Castle's effect).

Chronos: Sacrifices Solider to summon Antique Gear Beast (atk: 2000, ups to 2300). Attacks and destroys Werewolf with Beast. Monsters destroyed by Beast can't activate their special effects. (Carmulla LP: 3200). Chronos gloats that the illusion of shadow games will be no more. The students smirk and say that he's gonna deny it to the end.

Carmulla: Activates field magic Immortal Kingdom Hellvania. She can destroy all monsters on the field by discarding one undead monster from her hand. Manjoume points out that this destroys her monsters as well, and that she won't be able to normal summon after activating this effect. But Bats have an effect: when this card is destroyed, send one card with the same name from deck to grave to negate destruction. She activates Hellvania's effect by sending Vampire Lord from her hand to grave, and destroys all monsters on field except Bats (she activates Bats effect to keep it on the field). Direct attack with Bats (Chronos LP: 1700). He's experiencing a lot of pain, again.

Chronos rebukes himself for making the same mistake again, and tells his students to use him as the model for what not to do. He falls to the ground.

"I should've been the one to duel!" Ryou says.

Carmulla says she's disappointed that they would thrust such a sorry duelist at her.

"That's not true!" Judai's voice calls out from behind them. He's being carried by Hayato, and arrives with Shou and Asuka. "Chronos is strong! I have fought him so I know. Chronos sensei, show us your turn!" he says.

Chronos struggles to stand up. He says he can never be defeated by a shadow duel. "This is because duels give youth hope and light, not fear and darkness!"

"So that is what he was saying...that shadow games do not exist..." Misawa says.

"...that they cannot be allowed to exist," Ryou finishes.

Chronos: Summons Antique Gear Gollem (atk: 3000). He can summon it without sacrifices due to Castle's effect. Sacrifice this card to summon a high level Antique monster that requires the same amount of sacrifices as the number of turns this card has been on the field. Castle was on the field for 2 turns, so Chronos can summon Gear Gollem, which normally requires 2 sacrifices. Attacks Bats with Gear Gollem. (Carmulla LP: 1200). Bats are destroyed, but come back due to its effect. Chronos activates Heavy Storm to destroy all magic and traps on the field.
Carmulla's face gets all creepy and she activates trap card Undead Bed, which can be activated only when it's destroyed. By its effect, she special summons Werewolf in atk.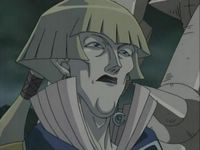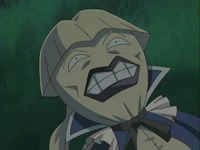 Carmulla: Activates magic card Book of Life, which lets her special summon Vampire Lord from grave (atk 2000 ups to 2200 by Bats effect). This card also lets her remove Beast from Chronos's grave from the game. By removing Vampire Lord from the game, she summons Vampire Genesis (atk 3000 ups to 3200).

"Watch carefully, and promise me..." Chronos says. "Even if you are defeated in a shadow game, darkness cannot surpass the light. Believe in this, and never yield your heart. Promise me."

Carmulla attacks Gollem with Genesis, then directly attacks with her other two monsters for the win.

* End Duel *

Everyone is shocked.

"You looked real cool...Chronos sensei..." Judai says.

Chronos is indeed sealed into a doll. Judai gets really angry, but Ryou stops him from stepping up. Carmulla says she will send a special invitation eventually... A castle materializes from the far reaches of the lake, as she disappears...

Next episode: Kaiser vs. Carmulla: Activate the Door of Illusions

Posted by athena at |9:59 AM| |