Because I'm a shameless Manjoume fangirl.
results from last poll
How was the Prince of Tennis finale?:

More people liked it than I expected! XD I chose the last option of course, because Atobe is just... *purrrrrrs* ♥
Great! I loved it! (35.94%)
It was so-so (23.96%)
Atobe shower was the only redeemer (21.35%)
Horrible...I hated it(18.75%)
Total: 192 votes
[ previous poll results ]
what's in a name?
This is where I feature a character from an anime and explain their name meanings. If you'd like to request a name meaning, let me know! ^_^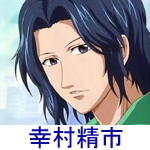 Name: Yukimura Seiichi
Anime: Prince of Tennis

Meaning:

Yukimura is a wonderful character that has lots of potential... His name is quite fitting to his character as well. "Yuki" is the kanji for peace or happiness, and "mura" means village. I think this reflects the serenity of his nature very well.

The more interesting part about his name is the fact that it stems from the historic Japanese war hero, Sanada Yukimura. A brilliant tactician and expert in the art of war, he almost led a successful campaign against the then-shogun Tokugawa Ieyasu. He is ultimately betrayed and meets a tragic end. I think it's interesting indeed, that the powerhouse tennis team Rikkaidai's Captain (Yukimura) and Vice Captain (Sanada) are named after this true life hero.

"Sei" means soul or life force. This of course, speaks to Yukimura's passionate feelings toward tennis, and his incredible will to overcome his suffering to become greater than he is. Ichi is a common ending for a boy's name.

[ previous name meanings ]



jpop rotation
rules:
1. Sampling purposes only. Please delete after 24 hours.
2. Support the artists! Albums available at yes asia,
CD Japan & amazon




Artist: Hamasaki Ayumi
Song: STEP you

[[ hook me up ]]

This song is one of Ayu's more rock-type songs. It's one of her latest singles, just before Alterna and Fairyland.

As always, leave a comment if you download...altho nobody seems to, lol....

[ previous rotations ]



winamp skin

[[ download ]]

[ other skins by me ]



quote of the week


Follow me to the Nationals!

Atobe Keigo
Prince of Tennis



featured screencap
user poll
calendar
credits
you are visitor #
home
Sunday, March 13, 2005
* Anime winamp skins *
Anime Winamp Skins
by athena

EDIT: I've found a place that can host my skins! I won't have to rotate them around anymore! I will be adding new skins here periodically, so do check back. I will announce new postings on my sidebar, probably in the "news" section. ^_^

Please note that I have a 10 MB bandwidth limit per 24 hour period. So if the download links are not available, please try again in a few hours.

Ha...well, I just discovered how to make my own winamp skins via a program called skinamp, and I've been at it like a maniac...lol. It's a pretty simple program, and anyone who can cut and paste stuff in Photoshop can make a skin. It's so much fun...hehe... Even though it's pretty basic. Anyway, you can tell I go for a real basic look, with no frills. I don't use the equilizer anyway...

You can also download my featured skin, which I'll have on my sidebar. Click on images for larger view.

*Images for "tezuka dreams" and "be awed" were taken from Seigaku! Karupin.net*

*Images for Cowboy Bebop were taken from easy come easy go*


Posted by athena at |2:05 AM| |